—
Saint Octobre
Strong, intensely aesthetic texts from Jean-baptiste Cabaud, accompanied by the uncompromising machines of David Champey, the electro poetry band Saint Octobre decisively side with a very contemporary branch of poetry…

More on
YOUTUBE
—
An historical and poetic retrospective of the mad Russian nuclear activity in the Arctic, this work is developped with the movie directors Les Derviches Associés and the photographer Anne Bouillot. It is given to be shown in two different ways:
— Stage performances including simultaneously poetry reading, music and a movie projection. Saint Octobre has already performed at the International Festival of Audiovisual and Experimental Poetry Tarp Festivalis in Vilnius & Kaunas (Lithuania), octobre 2012; for a residency release concert at Le Périscope, Lyon (France), april 2012; at Limbus-Europae, art-space Berlin (Germany) may 2011; for the Spring of Poets 2011 in Saint-Étienne  and 2016 in Lyon (France); at the Poetic Cabaret of Lyon in 2010, and for a carte blanche given by the city library of Lyon in 2017, to name a few. For live shows abroad, Nouveau Noum's movies are specially designed for poetry to be widely available for non french speaking audience.
— One hour poetry movie screened in international poetry movie festivals. The movie is the one created by Cinema Fragile to be screened during the stage performances, while poetry and music consist on a soundtrack (recorded either live or in studio). Such events have taken place for instance during the 3rd Sadho Poetry Film Fest, New Delhi, India, 2011, the 8th Berlin International Directors Lounge in Germany, 2012 or the Photosynthesis Media Arts Festival 2012 & 2013, San Francisco, USA. Last screening was in Amsterdam, during the Visual Sundays festival from Filmhuis Cavia, in 2016.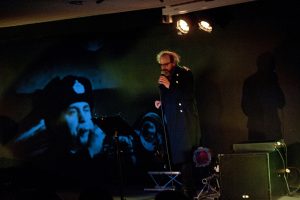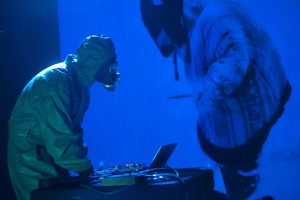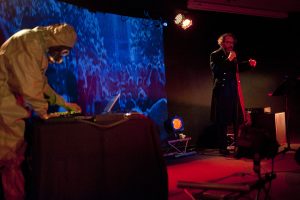 —
Sortir au jour, an electro-industrial poetry show by Saint Octobre, has been performed for the first time in Lyon, France, for Spring of Poets 2014 and in various places since then. It features two industrial rock guitar and some computers.